Great Easter Bunny Competition.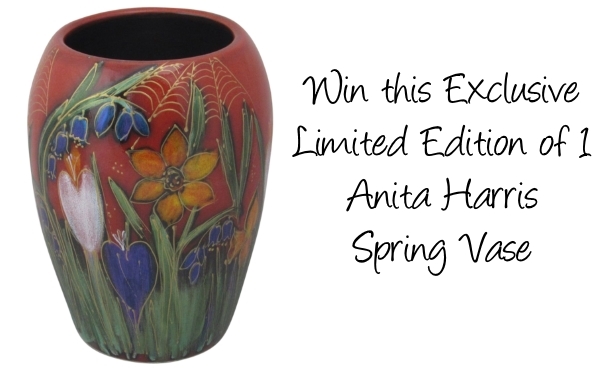 Great Easter Bunny Competition. Stoke Art Pottery are giving away a hand thrown hand decorated vase valued at £195.00!!
This vase has been produced exclusively for Stoke Art Pottery by Anita Harris Art Pottery. The vase was hand thrown by master potters at Black Star Ceramics. Then hand decorated by Anita Harris. It is a Limited Edition of only one. Numbered 1/1 and personally signed by Anita Harris on the base.
Anita Harris is one of leading ceramic artists now working in their own studio.  The designs by Anita became well known and popular whilst she was Head of Design at Poole Pottery. In 2000 Anita moved to work in Stoke on Trent for the Moorcroft group. One of the Lead Designers working on designs for Black Ryden and Cobridge Stoneware. In 2006 she decided to open up her own studio. Anita Harris Art Pottery.  With Samatha (Sam) Johnson who was also a Lead Designer at Moorcroft.
Between them they have done designs for Liberty's, John Lewis, Selfridges and Harrods, Just to name a few.
Their new designs whilst working together have been acclaimed.  By both Henry and Sandon OBE and Eric Knowles (Both of BBC TV).  To be the "Antiques of the Future".
To win this unique hand thrown, hand decorated vase. Enter our Great Easter Bunny Competition.
All that you have to do. Is to find the three Easter Bunnies that have been inserted on the category pages on our web-site.
Stoke Art Pottery have now been established over ten years. Selling on-line high quality pottery and ceramics. Produced in the UK.