Burslem Pottery Grotesque Birds
BURSLEM POTTERY GROTESQUE BIRDS
Burslem Pottery Grotesque Birds were originally designed by Andrew Hull for Cobridge Stoneware. The inspiration for the Grotesque Birds came from the Martin Brothers. Who were world famous potters during the late ninetieth and early twentieth century.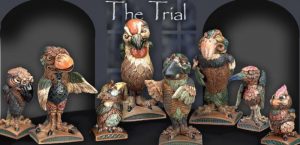 Burslem Pottery was established in 2006. After acquiring the moulds and designs from Cobridge Stoneware. Which had been part of the Moorcroft Group of Companies.
Burslem Pottery continues to produce the Grotesque Birds. To the same exacting standards required by Moorcroft. All the designs by Andrew Hull continue to be produced. Which all have the signature of Andrew Hull on the base. In addition to new designs that have been introduced by Steve Shaw and Ray Tabbinor.
One of the most popular ranges designed by Andrew Hull is the Court Room Range, which is  made up of eight designs comprising, Charlie the Accused, Mary Sparrow (his wife), and the six officers of the Court: The Judge, The Prosecutor, The Defender, The Bailiff, The Stenographer along with The Clerk.
Each of the Burslem Pottery Grotesque Birds are hand-made and hand decorated.