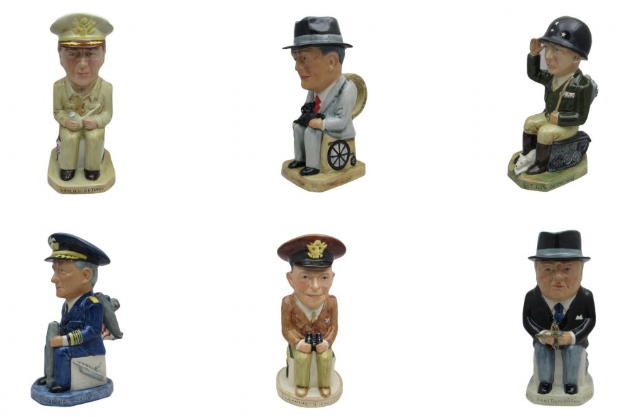 The Wilkinson World War II Allied Leaders Collection. Inspired by the original World War I Allied Commanders Toby Jug set. Designed by F Carruthers Gould. And produced by A J Wilkinson between 1915 and 1919. A iconic set of eleven jugs featuring famous World War I statesmen and military characters.
These jugs were produced in Limited Editions. Ranging from 250 to 500. And they have now become most sought after by today's Toby Jug collectors. With individual jugs selling for prices in excess of £1000.
Wilkinsons had planned to produce a similar range for World War II. However, due to the exigencies of the war effort in the UK. This plan never can to fruition,
As a result, to fill this void. The American Toby Jug museum commissioned a collection of World War II Allied Leaders.
Modelled by Ray Noble. A well known and gifted ceramic designer and modeller.And produced by Bairstow Pottery. Based in Stoke on Trent, Staffordshire. England.  Hand crafted and hand painted by master painters. A second coat of special glaze provides a finish similar to the original Wilkinson Toby Jugs
This new collection. Following the Wilkinson style. Each Toby Jug is eleven inches tall. And hold a symbolic artifact. In addition to iconic details and quotes being incorporated in the handle and base designs. And would include twelve of the most significant Leaders from the Allied powers of World War ll.
Produced in a strictly Limited Edition of only 100. With the exception of Churchill and Roosevelt. Which will have a World Wide Limited Edition of 150.
Wilkinson Allied Leaders Collection is now available from Stoke Art Pottery. Stockists for Bairstow Pottery products.
Click for more information and to purchase World War II Allied Leaders Collection.