V J Day 75th Commemorative Vases.
Now available V J Day 75th Commemorative vases. Produced by Anita Harris Art Pottery. To commemorate V J Day on 15 the August 2020.
Two designs are available. One vase poignantly illustrating the outline of British soldier. Walking away into the distance. And the other vase illustrates the outline of a USA soldier.
Otherwise the two vases are identical.
The design on the front of the vases has the outline of the Burmese Jungle. With the letters VJ with 75 on them.  In addition to the Union Flag of the United Kingdom. And the USA flag.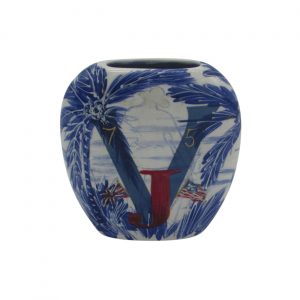 The reverse side of vase depicts the jungle again. As well as the date 15th August 2020. Being the date of the 75th Commemorative Day for VJ Day.
Hand crafted and hand painted vases. Completed in a Blue and White Lustre finish.
Each vase is being personally signed on the base by the designer and ceramic artist Anita Harris.
A gift idea for the collectors of militaria. And those that wish to commemorate VJ Day.
The V J Day 75th Commemorative Vases will only be available for a very Limited Period.
CLICK ON THE FOLLOWING UK VASE OR USA VASE. To view the vase of your choice.
All our prices include UK Post and Packing. And the International Shipping Rates have been Discounted.
ANITA HARRIS ART POTTERY.
Established in 2006. Well known for their vibrant and colourful designs. Designs described by Henry Sandon OBE and Eric Knowles, (BBC Antiques Road Show and BBC Bargain Hunt). To be "Antiques of the Future".
Prior to setting up her own Art Pottery studio. Anita was Head of Design for ten years at Poole Pottery. designs becoming very popular with Poole Pottery collectors. In addition to successful ranges designed for many of the prestige stores. Including Harrods and John Lewis.
Then in the year 2000. Anita moved to Stoke on Trent to get married. And she became one of the Leading Designers at Moorcroft. Also producing designs for Cobridge Stoneware. And again her designs became extremely popular.
Anita now joined by her Son Peter. Claimed to have inherited the talents of his mother. Make the perfect team to continue making British Art Pottery. Produced totally in Stoke on Trent.
Having studied art design at Salisbury College of Art. And with Sarum Metalcraft. He his the perfect addition with sculpture, metal work and design skills. In fact many of his designs are already much sought after.
STOKE ART POTTERY
Established in 2006, selling high quality pottery and ceramics from Leading potters online