Very different personalised canal boat gifts.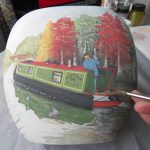 Stoke Art Pottery now has available some "Very Different Personalised Canal Boat Gifts. Hand Painted Pottery Vases. And have your very own canal boat painted on it. Something that is totally unique. And is a "one off" design. That will display beautifully. Either in your home. Or on board your canal boat. To show to your friends and colleaques.
And each one will come with a Certificate of Authentication.
A choice of several scenes. Including scenes from the Trent Mersey and Macclesfield Canals.
And they are really easy to buy. During the purchase process you just to upload a photograph of your own canal boat.
Competively priced at £169.99. Our Personalised Canal Boat Gifts. Will be a unique "Life Long" souvenir.
Currently being featured in the respected "Canalsonline" Magazine.

At Stoke Art Pottery we supply Prestige  Art Pottery. Hand painted by Leading Ceramic Artists. Based in Stoke on Trent. The one of those artists is Anthony (Tony) Cartlidge. Who hand draws and hand paints our canal design vases.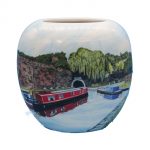 Anthony (Tony) Cartlidge Ceramic Artist.
Until fairly recently Tony worked under the umbrella of many of the major potters based in Stoke on Trent. Including Royal Doulton, Carlton Ware, Bairstow Manor Collectables and Lorna Bailey Artware. Then when made redundant (on the transferring of production to the Far East) he decided to work on his own designs. And as now produced designs for Stoke Art Pottery  for several years. Particularly the hand painted vases with the canal scenes.
And it was from this work came the idea for the personlised canal boats gifts. Using the designs to portray canal boat owners own boats on the vases.
In addition to painting on ceramics. Tony enjoys painting on card using water colours and acrylic paint. Consequently Stoke Art Pottery is now offering in our Gifts for Canal Boat Owners section. A selection of his paintings.
You will find all the information on our Gifts for Canal Boat Lovers Category