Last Minute Easter Wedding Gift Purchases Delivery Dates.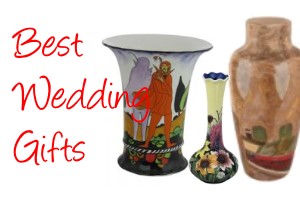 There is now less than two weeks to Easter 2019. Good Friday is 19th April 2019. So give yourself some time to buy that unique wedding gift. And save the worry and inconvenience. Buying "That last minute Easter Wedding Gift"..
Buying online will save you hassle of taking time off work. Struggling to find that car park space. Along with all the other jobs you have to do. Before you go to that wedding over the Easter holiday.
Get a cup of coffee, a cup of tea. Or perhaps even a glass of wine! And in the piece and quiet of your own home. During your lunch break at work. Browse our great selection of pottery wedding gift ideas.
High quality pottery and ceramic gifts. Including hand cast and hand decorated prestige studio and art pottery. Produced by Leading Ceramic Artists based in Stoke on Trent.
Many of the shapes, designs and colour ways being totally exclusive to Stoke Art Pottery. Especially a new design for Spring 2019 "Narcissis Fortune" by Anita Harris Art Pottery. A world-wide  Limited Edition of only 10. Each vase in numbered and signed on the base. And comes with a Certificate of Authentication.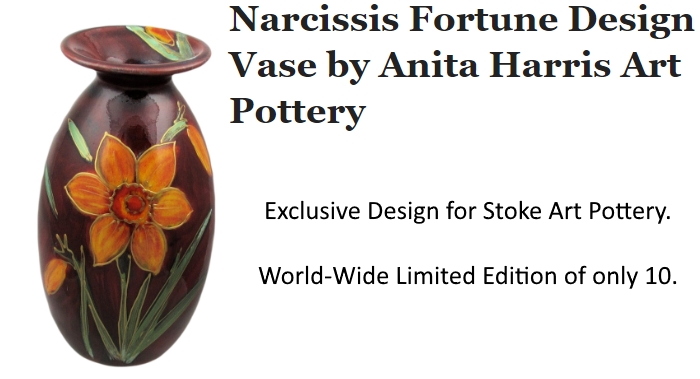 All of this making your "Last Minute Easter Wedding Gift" different and unique.
Remember that there is no post or courier deliveries on Good Friday.
Cut off dates for deliveries by Thursday 18th April 2019.
UK Mainland with Free Delivery & Items under £20 (1- 2 days delivery).
Mid-day Tuesday 14 April 2019.
UK Mainland Expediated Delivery all orders £7.50 Post & Packing.
Mid-day Wednesday 15 April 2019.
For non mainland please contact us for the latest cut off date.
International Deliveries
Australia /New Zealand / Canada
18.00 Hours Thursday 11th April 2019/
USA / France / Italy / Spain / Netherlands
1800 Hours Sunday 14 April 2019.
Germany 
Mid-day Monday 15th April 2019.
For all other countries please contact us for the latest cut off dates.
Hopefully you will enjoy browsing our selection of wedding gift ideas. And find that absolute perfect gift you have been trying to find.
And buy in time. So it is not a purchase of that "Last Minute Easter Wedding Gift".