WOULD YOU LIKE A £5.00 VOUCHER OFF YOU NEXT ORDER?
THEN A CHANCE FOR A FURTHER £20.00 VOUCHER?
ALL YOU HAVE TO DO IS TO EMAIL US WITH YOUR SUGGESTIONS FOR THE NAME OF THIS NEW VASE DESIGN FROM ANITA HARIS ART POTTERY!
NOW READ ON.
When a new design is introduced. Many of our customers ask "How do we think of names for the designs".
So we thought. Let us have a competition. And ask our customers for suggestions for a name of a design for this new design on a new shape.
This is a pre view photograph of the new shaped vase. In a new design.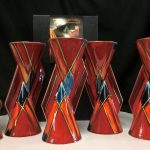 This a new shape of vase. Being introduced by Anita Harris Art Pottery.
It is a Y0-Yo shaped vase. Very typical of the art deco period.
This design on this new shaped vase will be produced exclusively for Stoke Art Pottery. In a world wide Limited Edition of only five.
SO E-MAIL US ON [email protected]
WITH YOUR SUGGESTED NAME FOR THIS NEW FANTASTIC VASE DESIGN FROM ANITA HARRIS ART POTTERY.
At the same time let us know if you would like to be included on our mailing list to receive our regular e-newsletter. Which includes information about new products. Special offer  discounts.
EACH ENTRY WILL RECEIVE A £5.00 STOKE ART POTTERY GIFT VOUCHER.
THE WINNING SUGGESTION WILL RECEIVE AN ADDITIONAL STOKE ART POTTERY VOUCHER FOR £20.00
Terms and conditions of the competition. Only one entry per household allowed. Only one gift voucher may be used per order. Minimum order value of £24.95.They may only be used for purchases from Stoke Art Pottery. They have no cash value.
All entries are received on the basis all suggested names for this design, the copyright of that suggested name passes to Stoke Art Pottery.
Closing date Mid-day Wednesday 23 March 2016.
The winning name will be decided by Anita Harris (NB No correspondence will be entered into relating to this competition)
If you are not familiar or aware of the products produced by Anita Harris Art Pottery.
Anita Harris Art Pottery is hand made and hand painted in Stoke on Trent, Staffordshire. The unique and interesting designs are created using reactive glazes.
Stoke Art Pottery have now been established for over ten years.  Selling On-Line. Hand Painted Pottery Produced in the UK.