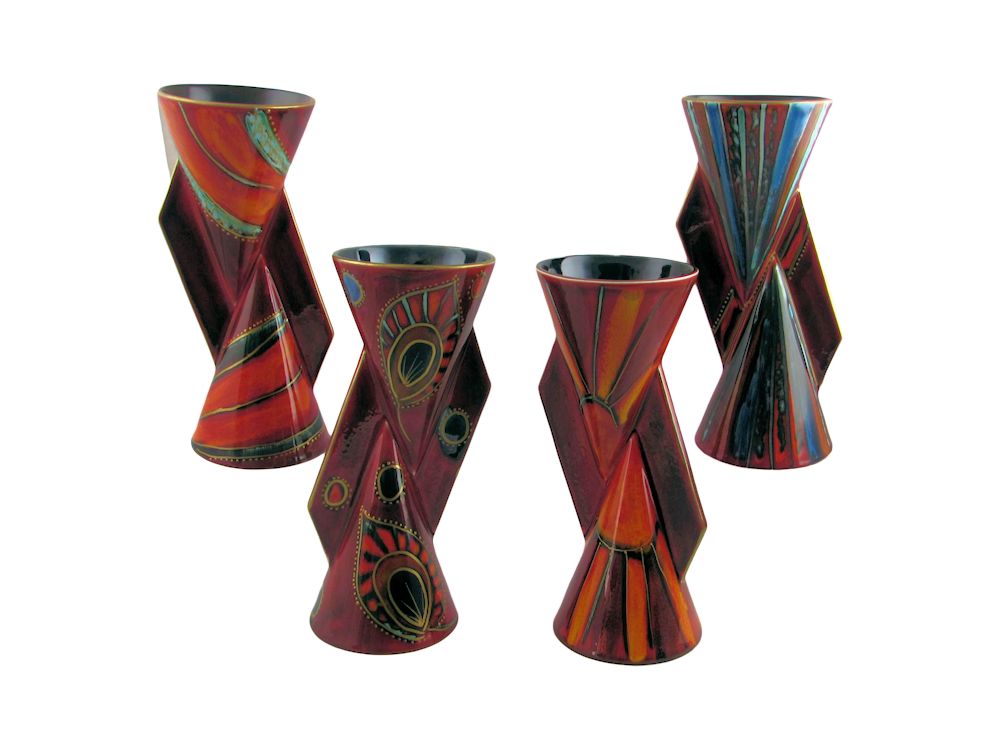 We have a good selection of exclusive hand painted art pottery designs in stock.
All produced by Leading Ceramic Artists working in Stoke on Trent, Staffordshire. Or originally came from from Stoke on Trent. Like Marie and Peter Graves. Who have now retired to live in the Lake District. However, continue to produce beautiful one off designs on ceramics.
Our stock of exclusive hand painted art pottery designs consist of "One Off" designs. Trials and Limited Editions.
Of course are totally exclusive from Stoke Art Pottery. Therefore cannot be purchased from any one else!
The variety of designs that we have available.  Demonstrates the various different techiques of the Ceramic Artists with whom we work.
Canal scenes. Art Deco style designs. Which remain very popular. Designs depicting animals. And very popular are the Industrial Scenes. Portraying the industrial landscape during the nineteenth and early twentieth century.
In fact we believe that our selection of exclusive hand painted art pottery designs. In addition to our standard ranges. Will be a perfect gift for any occasion. A wedding gift. That special anniversary. Not forgetting birthday and christmas gift ideas. Then of course. There is Mothers Day. And you never know. Dad may appreciate something different on Fathers Day.
And all of them will enhance will enhance any home.
CLICK HERE to browse our ranges of hand painted art pottery.
Established in 2006. Selling high quality ceramics and pottery on line.
Stoke Art Pottery represents many of the Leading Ceramic Artists currently working in the UK. All their work is totally produced in the UK. Their fine china and earthenware.  Produced in Staffordshire.
Finally all items securely packed for shipping. And shipped with well known couriers. Who require a signature at the time of delivery.