Exciting Anita Harris Art Pottery Design.
Exciting Anita Harris Art Pottery Design. Named "Transcendence".
It is a unique "one off" experimental design by Peter Harris.
Starting by hand carving into wet stoneware. Not an easy task to do. With no idea how the shape of the vase would developed.
It transcended into this beautiful hand carved stoneware vase.  Unique "one off" design.
Therefore when considering various names for the design. It had to be named "Transcendence". A design supreme in excellence.
In addition to Anita Harris signing it on the base. It is signed by Anita's son Peter.
Peter has been working along side his mother, Anita Harris, for some time. Obviously he has inherited many of mother's talents. Enabling him to develop many new ideas and techniques.
Only one available, click here to browse this exciting Anita Harris Art Pottery Design vase.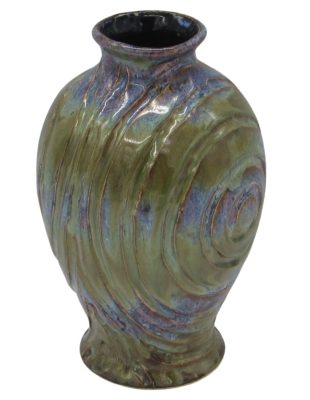 Stoke Art Pottery are "Authorised" resellers of Anita Harris Art Pottery products. Consequently we are able to offer a full range of their products. With many of the designs or colour ways being totally exclusive to us. Click Anita Harris Art Pottery to view all the other products currently in stock.
About Anita Harris.
Well known for their vibrant and colourful designs. Designs described by Henry Sandon OBE and Eric Knowles, (BBC Antiques Road Show and BBC Bargain Hunt). To be "Antiques of the Future".
Prior to setting up her own Art Pottery studio. Anita was Head of Design for ten years at Poole Pottery. Designs becoming very popular with Poole Pottery collectors. In addition to successful ranges designed for many of the prestige stores. Including Harrods and John Lewis.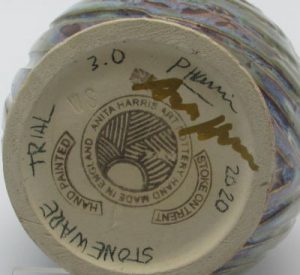 Then in the year 2000. Anita moved to Stoke on Trent to get married. And she became one of the Leading Designers at Moorcroft. Also producing designs for Cobridge Stoneware. And again her designs became extremely popular.
Anita now joined by her son Peter. Claimed to have inherited the talents of his mother. Make the perfect team to continue making British Art Pottery. Produced totally in Stoke on Trent.
Having studied art design at Salisbury College of Art. And with Sarum Metalcraft. He his the perfect addition with sculpture, metal work and design skills. In fact many of his designs are already much sought after.
STOKE ART POTTERY
Establish 2006, selling high quality pottery and ceramics from Leading potters online. And have been selling Anita Harris Art Pottery products since 2006.