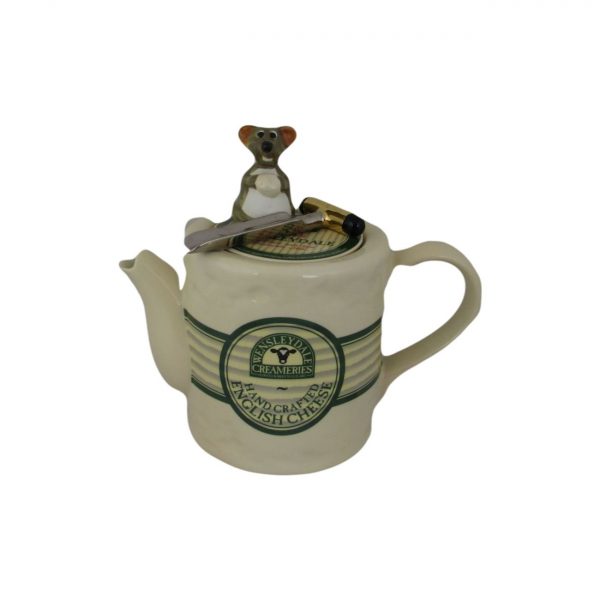 Wensleydale Cheese Novelty Teapot Ceramic Inspirations
£79.95
Ceramic Inspirations.
Wensleydale Cheese Novelty Teapot.
World-Wide Limited Edition of 1500.
1 in stock
Description
Wensleydale Cheese Novelty Teapot
A Wensleydale Cheese  Novelty Teapot. Uniquely in the shape of a piece of Wensleydale cheese.
A cheeky mouse sits on the top of the teapot. Clutching a morsel of cheese. With a cheese trier next to it to complete the lid.
The Wensleydale Creameries logo is visible on the main body of the teapot.
Produced in the UK. In a world-wide limited edition of 1500. By Ceramic Inspirations in their factory. Which is based in Leyburn, North Yorkshire. Using skilled craftswomen and craftsmen. The teapot is first of all hand crafted. Then individually hand painted.
And to complete the unique finish. They use real platinum glazes.
And each teapot is individually numbered on the base.
The dimensions of this teapot . From the tip of the spout to the edge of the handle 20cm. With a overall height including the lid 18cm
Together with its own box.
Our on-line price for this Wensleydale Cheese Novelty Teapot is £79.95  And  this price includes UK post and packing.
Similarly we offer world-wide shipping. With discounted international shipping rates.
In addition to this Decorative Collectable and Novelty Teapot. We also have good stock of other teapots. To view all our current stock available CLICK HERE.