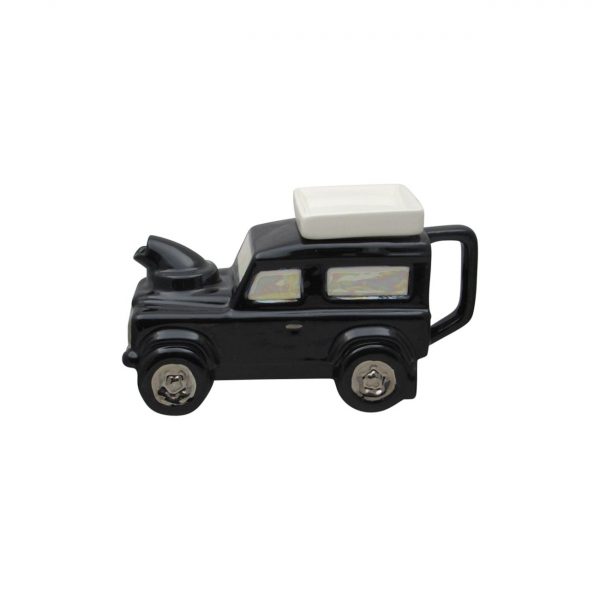 Landrover Teapot Black Colourway Made by Ceramic Inspirations
£43.99
Hand Made, Hand Decorated Pottery Teapot.
In the shape of a Landrover, Black Colourway.
Made in the UK.
Length 19cm, Height 11cm
Boxed.
Free UK Post and Packing (1 – 2 day delivery)
Discounted International Shipping Rates.
1 in stock
Description
A Novelty and Collectable Landrover Teapot Black Colourway.
Produced in the UK by Ceramic Inspirations.
In their world famous teapottery, Based in Leyburn, North Yorkshire.
Hand crafted using traditional production methods. Then hand decorated.
Platinum glazes being used for the detail finish.
Due to the hand painting process. No two teapots are exactly the same.
Making each teapot different.
The whole prodution process. Takes 5 – 6 working days to produce each teapot.
Our novelty teapots make great gifts for any occasion. Especially Christmas or Birthday Presents. Mother's or Father's Day Gifts. Or even a wedding anniversary gift. In fact we have novelty teapots for most occasions.
The height of this teapot is 11cm. Including the lid. Length 19cm.
Our online price for the Landrover Teapot Black Colourway is £43.99
UK Post Free. ( 2 day delivery)
International Shipping Rates Discounted.
Normally next day despatch. Monday to Friday. (Excluding Public and Bank Holidays)
Significantly offering a fast and prompt delivery service.
This Golf Bag Medium Teapot Black Colourway. Just one of the many hand made hand decorated teapots in stock. Click Novelty Teapots to view current stock available.
Buy with confidence. Stoke Art Pottery have been selling high quality ceramics on-line since 2006. And we offer a 14 day "No Quibble" Money Back Guarantee. If you are not happy with the item.