Marie Graves Fine Ceramic Art
Marie Graves Fine Ceramic Art.
All the vases produced are freehand painted
Marie Graves Ceramic Artist Art Pottery designs are inspired by nature.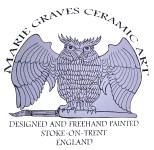 Different flowers with the insects and birds fluttering around them.
As well as designs inspired by nature. We now have a selection of vases. With designs inspired by the art deco period.
Marie is well known for her designs produced for Carlton Ware.
We now have s selection of vases produced and designed by Marie's husband Peter Graves.
Peter and Marie began painting on fine bone china. Whilst they were working at Coalport China. Based in Longton, Stoke on Trent.
Here they worked in the "prestige" department. Hand decorating these "prestige" vases.
In 1980 they left Coalport China. To set up the "hand painting" department at Staffordshire Enamels.
After twenty three years they moved to Moorcroft Enamels.
Decorating mainly one off designs.
Leaving Moorcroft Enamels. They now continue to produce designs for Elliot Hall Enamels.
Marie is also well known for her designs for Carlton Ware.
Many of which are illustrated in Carlton Ware the Complete Guide.
By Dr Czes an Yvonne  Kosniowski.