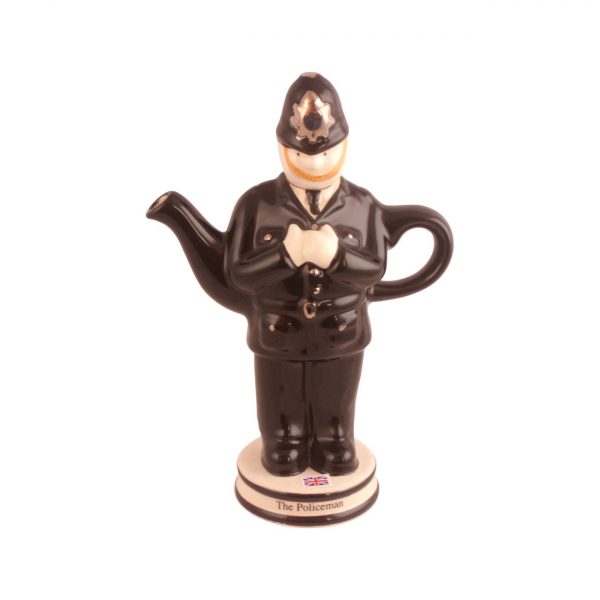 Policeman Collectable Teapot Carters of Suffolk
£39.90
Hand Made Hand Painted Teapot.
Made in UK.
World Wide Limited Edition 250.
Numbered on the base.
Height 24cm.
Boxed.
Free UK Shipping
Discounted International Shipping.
1 in stock
Description
Policeman Collectable Teapot
A Policeman Collectable Teapot. Which is produced by Carters of Suffolk.
Who  have been producing novelty and collectable teapots since 1978.
And every teapot produced is individually hand made and hand decorated.
 With real platinum glazes used to complete the detailed finish.
And all their teapots are produced in their factory based in Suffolk, UK.
This teapot is in the shape of a traditional London bobby.
Which is produced in a world-wide Limited Edition  of only 250.
With each teapot being individually numbered on the base.
And each one comes with a Certificate of Authentication.
Our online price for this teapot is £39.90
And this price includes UK Post & Packing,
We also ship world- wide with discounted shipping rates.
Carters of Suffolk Novelty and Collectable Teapots
Make Great Gift ideas for all occasions.
Christmas, Birthdays or Retirement Gifts.
We have available a full range of Carters of Suffolk Teapots.
Click here to view all teapots currently available.
Finally you can buy with confidence with official stockists for  Carters of Suffolk.
Stoke Art Pottery have now been established over ten years.
Selling on-line. High quality pottery and ceramics.
Which are all produced in the UK.
And we also offer a 14 day "No Quibble" money back guarantee