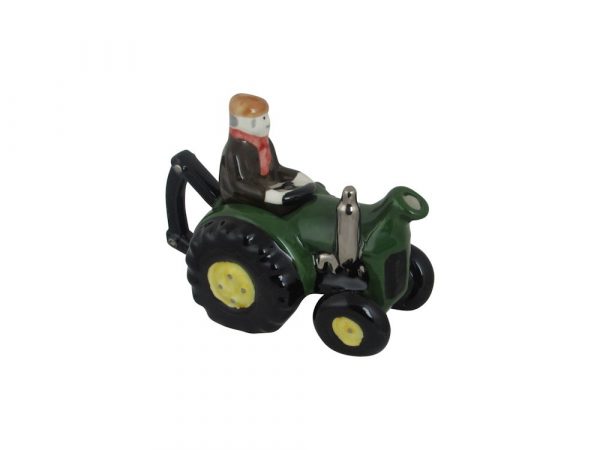 One Cup Farm Tractor Collectable Novelty Teapot Carters of Suffolk
£29.99
Carters of Suffolk.
One Cup Collectable Novelty Teapot in shape of a Farm Tractor
Out of stock
Description
ONE CUP FARM TRACTOR COLLECTABLE NOVELTY TEAPOT.
This is a One Cup Farm Tractor Collectable Novelty Teapot. Produced by Carters of Suffolk. This teapot is hand-made. And in addition to being hand decorated, real platinum glazes are used for the detailed finish.
The design is in the shape of an old type farm tractor. With the farmer sitting in it being the lid.
It is a fully functional one cup teapot. Being 14.5cm in length, and 11.5cm in height.
.Our on-line price for the teapot is £29.99
In addition to it being boxed. This price includes UK post and packing. 1 – 2 day delivery.
Plus we also offer world-wide shipping. And all our international shipping rates are discounted.
We are stockists for Carters of Suffolk. And we have in stock a large range of collectable and novelty made by them. To view all the current stock currently available PLEASE CLICK HERE.