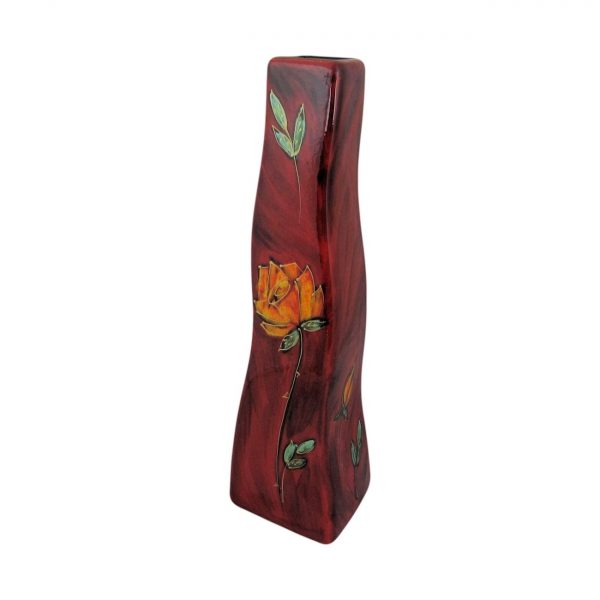 English Rose Design Ski Shaped Vase Anita Harris Art Pottery
£72.99
Anita Harris Art Pottery
35cm Ski Shaped Vase in the English Rose Design.
World-Wide Limited Edition of 10.
Exclusive to Stoke Art Pottery.
1 in stock
Description
English Rose Design Ski Shaped Vase
A English Rose Design Ski  Shaped Vase. Hand cast and hand painted pottery made pottery vase made in Stoke on Trent. Designed and hand painted by Anita Harris Art Pottery.
The design "English Rose" is a exclusive design for Stoke Art Pottery. And  produced in a world-wide Limited Edition of only 10.  All being individually numbered on the base.
In addition  Anita Harris personally signs each vase on the base.
Before being hand decorated the vases are hand cast. By one of the local potters based in Stoke on Trent.
Then hand painted. In the Anita Harris Art Pottery studio. Where they use their special reactive glazes. Which gives their pottery this vibrant,  and very distinctive unique finish.
The height of the this vase is 35cm.
With our on-line price of £72.99. Which includes UK postage.
Similarly we also offer discounted international shipping rates. To our international customers.
Finally as we are major stockist for Anita Harris Art Pottery. In fact  we have been selling their products since 2006. Consequently we have a good range of their products available. Including many designs and shapes that are exclusive to us. Therefore to view other items currently available please CLICK HERE.