Moorland Pottery Hand Decorated Vases
Moorland Pottery Hand Decorated Vases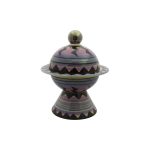 All hand painted in Stoke on Trent Staffordshire.
Moorland Pottery was established in 1986.
The vases produced by Moorland Pottery were hand painted using very expensive real silver glazes.  And very labour intensive.
Consequently around there year 2000. A decision was taken to cease the production of the hand painted vases. Due to the high cost of production.
This makes the vases Moorland Pottery produced very rare. They do not come on the secondary market very often.
The small selection of the vases that we have available. Have all been purchased on the secondary market.
They are all in good condition with no damage.
Moorland Pottery also became well known for the cockerel sponge ware.
However Moorland Pottery continues in business. Now very well known for its earthenware mugs.
These all show well known sayings from different regions of the UK.
In addition to a range of Trust Me Mugs.
Stoke Art Pottery are now official stockists for the Moorland Pottery Mugs.
CLICK HERE to view the selection of Moorland Pottery Mugs.
Showing the single result